- Limited Edition - Special Collector's Box contains the first 3 Iron Maiden LPs on 180Gram Black Vinyl (Iron Maiden, Killers and The Number Of The Beast) and is sized to complete your collection of all EIGHT 1980s Iron Maiden LPs - The 5 LPs NOT INCLUDED in the box are releasing this fall and available for purchase separately
- Limited Edition - Special Collector's Box contains the first 3 Iron Maiden LPs on 180Gram Black Vinyl (Iron Maiden, Killers and The Number Of The Beast) and is sized to complete your collection of all EIGHT 1980s Iron Maiden LPs - The 5 LPs NOT INCLUDED in the box are releasing this fall and available for purchase separately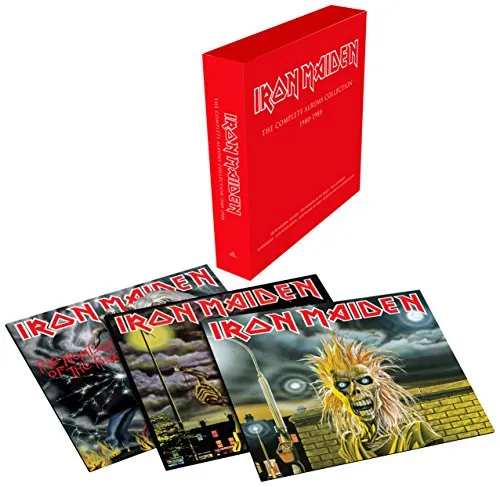 Details

Format: Vinyl
Label: SANCTUARY RECORDS
Rel. Date: 10/27/2014
UPC:

881034103765
The Complete Albums Collection 1980 - 1988 [Vinyl Box Set]
Artist:
Iron Maiden
Format:
Vinyl
New:
Not currently available
Wish
Formats and Editions
More Info:
- Limited Edition - Special Collector's Box contains the first 3 Iron Maiden LPs on 180Gram Black Vinyl (Iron Maiden, Killers and The Number Of The Beast) and is sized to complete your collection of all EIGHT 1980s Iron Maiden LPs - The 5 LPs NOT INCLUDED in the box are releasing this fall and available for purchase separately
Reviews:
In conjunction with these premium album releases, a strictly limited one-off run of the 7 singles from each respective album will be made available. These highly collectable black vinyl singles will be cut from the original UK analogue master tapes. Released in replica artwork packaging, this will be the first time ever that these black vinyl singles have officially been made available in the U.S. and sure to become a must-have item for fans, collectors and anyone who missed out first time round.
back to top